December 14, 2018
2019 Kansas 4-H Ambassador Training Registration News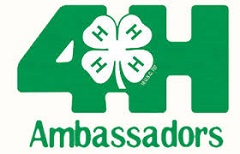 The 2019 Kansas 4-H Ambassador Training will be February 22-23 at the Rock Springs 4-H Center near Junction City. It is open to all county/district 4-H ambassadors, interested teens, ambassador advisors and Extension staff. The ambassador training is open to any 4-H member in the 8th – 12th grades. Local Extension offices may not be able to provide chaperones and/or transportation to this training. Check with your local Extension office before registering.
The theme is "4-H Ambassadors Go Wild with Leadership." There will be six youth workshops, three adult workshops, two speakers, with lots of fun and fellowship. Workshops to be offered include:
• True Colors, 1st Year Only - Learn about the four color personalities of green, blue, gold and orange. Discover your primary color and what it means.
• Wild about Leadership, 1st Year Only – Knowing your leadership style will help you learn about collaborating for self, others and your community.
• Elephant Communications, 1st Year Only – Learn basic communication skills that you need to know to be an effective county/district ambassador.
• Navigating the Jungle of First Impressions, 2nd year and Up – Learn how to make your first impression count with others as you apply for and interview for positions, awards and jobs.
• Day Camp Craziness, 2nd Year and Up – Learn about and experience new hands-on and fun ideas, activities, etc., to do with kids in a variety of 4-H day camps. These are all new ideas and activities in 2019. Handouts provided.
• Advanced True Colors, 2nd Year and Up – Learn how to make your primary color complement better within your team's color palette.
• Advisors' Workshop: Tips for a Great Program and Round Table– County/District advisors will get tips on how to effectively work with Ambassador teams, along with a round table discussion.
• Advisors': Making Quality Video Clips for 4-H, in a 2-part workshop – Learn how to make video clips to target market your 4-H program.
Full details are posted on the Kansas 4-H web site, http://www.kansas4-h.org/events-activities/conferences-events/ambassador-training/index.html. Registration will open on about December 15th on the CVent system. Visit: http://www.kansas4-h.org/events/index.html. Cost is $115, and covers all educational sessions, speakers, breakfast, lunch, breaks, and one night's lodging at Rock Springs 4-H Center. Registration will close on Sunday, February 10, 11:59 p.m. For cancellations from the time of registration through February 10th, there will be a $25 fee assessed. Beginning on February 11th, there are no refunds, and the full cost of the conference will be due. The Kansas 4-H Ambassador Action Team accepts members (teens, volunteers and Extension staff) year-round. For more information, please call Deryl Waldren at 785-462-6281, or e-mail him at dwaldren@ksu.edu.