December 14, 2018
2019 Kansas Youth Leadership Council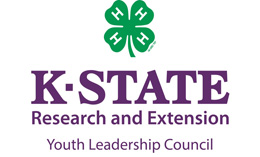 We are pleased to share names of the 2019 Kansas 4-H Youth Leadership Council. They will have an orientation and retreat in January and elect their officers.
2018 National Conference Delegates
Anastasia Elliott – Pottawatomie
Kyler Cox – Central Kansas
Keatyn Bull - Sedgwick
Emily Glenn - Scott
2019 National Conference Delegates
Adelaide Easter – Central Kansas
Rachel Yenni – McPherson
Camden Bull - Sedgwick
Erin Rose May – Twin Creeks
Jacob Schmeidler – Cottonwood
NE Representatives
Lauren Terry - Meadowlark
Rylee Coy – Flint Hills
Sophia New – Johnson County
NW Representatives
Isabelle Schemper – Twin Creeks
Courtney Baetz – Post Rock
Alexa Straub - Cottonwood
SE Representatives
Cadence Wheeler – Wildcat
Baily Chaplin – Wildcat
Lillie Haller – Butler
SW Representatives
Katie Harker – Kearny
Maleah Walker – Grant
Madeline Drake – Pratt
Their Annual Projects include Citizenship in Action, Campference, 48 Hours of 4-H Service Challenge and the Kansas Youth Leadership Forum.