September 14, 2018
Inspire Kids to Do (September 2018-May 2019)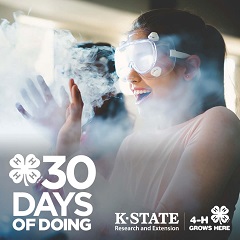 Kansas 4-H is excited to provide an update on the next phase of the 4-H Grows Campaign, Inspire Kids to Do. The goal of this campaign is to give more kids the opportunity to grow and lead in life and career. It will showcase how 4-H grows true leaders—through hands-on learning and doing. As you know, our goal nation-wide is to empower 10 million true leaders -- young people who "do" with a purpose to navigate life's challenges, pursue passions and contribute to the world around them by 2025. Check out the Inspire Kids To Do overview here.
Here's how you can get involved:
September:

Join 30 Days of Doing (September 1-30); Visit 4-H.org/InspireKidstoDo
Highlight local doers on your 4-H social media channels
Encourage 4-H'ers to enter the photo contest. Parents and legal guardians could win a $10,000 scholarship for their child—and the Kansas 4-H program could receive $10,000. Learn more at 4-H.org/InspireKidstoDo

October:
• Inspire kids to do STEM. Kick off the month of October by promoting the 2018 4-H National Youth Science Day, Code Your World, the computer science challenge co-developed by West Virginia University Extension Service and Google. New this year, 4-H NYSD will be celebrated all month long.
• Work with your county or district to promote National 4-H Week (October 7-13) with the help of new public service announcements, flyers, social media graphics, press release templates, bookmarks and more which can be found at Kansas4-H.org/resources/marketing. The theme is Inspire Kids to Do.
• Provide 4-H'ers the chance to show their pride on October 9: 4-H Spirit Day
We look forward to working with you on these exciting brand-building efforts. Ultimately, this work will help us drive home the life-changing impact of 4-H, grow investment in Extension's 4-H programs and give more kids the opportunity to succeed in life and career.