September 14, 2018
2018 Kansas 4-H SpaceTech Robotics Experience Coming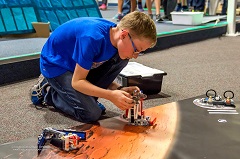 The Kansas 4-H SpaceTech Program and the Kansas Cosmosphere located in Hutchinson are again teaming up to provide fun, hands-on and science-based programming for Kansas 4-H Youth Development. This fourth program will feature "Robotics." The experience will begin Friday, November 16, at 4 p.m., and will end on Saturday, November 17, 4 p.m. Cost will be $115 for youth between 9-18-years old and $115 for all adult participants. All youth must have a designated chaperone to attend. Parents, grandparents, other relatives, and guardians may chaperone their own children/relatives. They may not chaperone other non-family members. Registered KSRE 4-H Leaders or KSRE staff may also chaperone 4-H members. Adult chaperones will be responsible for their children overnight.
Registration includes three meals, two breaks, and an overnight stay. Participants will learn how to program robots and use sensors. There will be a final team robot competition. Other engineering activities include making a catapult and launching pencil erasers, plus much more. There will be a tour of the Cosmosphere, a planetarium show, and a digital dome program.
This Cosmosphere collaboration is designed to be an adult-child experience, where 4-H members and adults can interact and learn from these fun and educational experiences. The program will include overnight indoor camping at the Cosmosphere located in Hutchinson, KS, (bring your own sleeping bag, air mattress, pillow, towel and toiletry items). The experience is open to 4-H members, parents, grandparents, volunteer 4-H leaders, and KSRE staff.
The CVent registration system will be used, visit: http://www.kansas4-h.org/events/index.html after October 1, 2018. Registration will close November 4, 2018, 11:59 p.m. There will be a minimum number required or the Robotics SpaceTech Experience will be cancelled. The program is limited to the first 60 who register on a first-come, first-serve basis. For more information, contact Deryl Waldren, dwaldren@ksu.edu, or call 785-462-6281.