April 15, 2019
Mid-Year Clean-up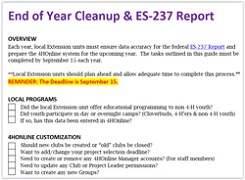 Make your local end of year process quicker by doing a little mid-year cleanup. Using the End of Year Cleanup & ES-237 Report resource to guide you through each process, completing the following tasks can give you a head start:
#1 Duplicate Members Check (pg. 5)
Run this report to check for members who have multiple records. Examine and investigate the pairings listed. If a member does have multiple records, Terry Roberts may be able to merge them together into one complete record. Please submit names to merge to Terry at teresaroberts@ksu.edu ASAP.
#2 Empty Families (pg. 6)
Run this report to check for "empty" families, also known as families without members. Take appropriate action to follow-up with families who need to complete member enrollments, or remove empty family profiles if not needed.

#3 Incomplete members (pg. 7)
Check for incomplete members. Kansas currently has 467 "incomplete" enrollments! These are members who didn't finish creating a enrollment/re-enrollment, or they simply didn't click the [Submit Enrollment] button. Take appropriate action to follow-up with these families If the member isn't going to participate in 4-H this year, delete the current year's information and they will go back to an "Inactive" status.