November 15, 2019
Register for ACRES Facilitating STEM Learning January Co-Hort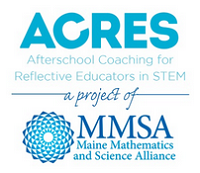 Kansas 4-H and the ACRES project are teaming up to offer an additional professional development co-hort beginning January 23rd.
The heart of the ACRES model involves educators coming together virtually to share experiences of their own interactions with youth. Small groups of educators connect via Zoom to do hands-on activities, then regularly capture their own work with youth, and discuss videos with peers and an experienced coach during virtual coaching sessions. The model recognizes that educators learn best by listening to themselves and each other as they practice new skills in a safe setting with a skilled coach. This professional development is endorsed by the National Afterschool Association and has funding from both the STEM Next Foundation and the National Science Foundation.
Participating in the ACRES series will help build facilitation skills and confidence in STEM and there is a stipend of $100 available for those that complete a pre and post survey.
The January cohorts have been co-designed by the ACRES Team and the Kansas 4H and are designed specifically for Kansas 4H educators. Dates are:
January 23 from 9-11am
February 20 from 9-11am
March 20 from 9-11am
• Registration deadline January 16, 2020
• Go to https://tinyurl.com/registeracres
• enter code KS02PQ
Thanks to the generosity of the Noyce Foundation and National Science Foundation, there is no cost for participants.