July 15, 2020
Vet Med ROCKS to host virtual summer camp for youth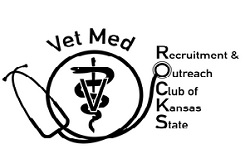 Due to the COVID-19 pandemic, the Vet Met ROCKS summer day camp will take place in a virtual format this year — and it's free of charge.
"We hope to still interact with campers through Facebook Live and present information on interesting topics, assign tasks to campers and allow campers to ask questions and upload photos of their projects for camp counselors to evaluate," said Michael Demmin, a third-year veterinary student and summer camp chair for Vet Med ROCKS, the Recruitment and Outreach Club of Kansas State, in the College of Veterinary Medicine.
From Aug. 3-6, students in kindergarten through the eighth grade will have the opportunity to learn about a different system/organ every day. Participants will get to enjoy fun hands-on activities using household items to enhance learning about each day's topic. Each day will end with a live Q&A session where campers can ask questions to current K-State veterinary students about the daily topic or veterinary school.
On Aug. 7, the club will host a virtual rounds session for high school and college students where clinicians will run through clinical cases. A Q&A session will also be conducted by admissions representatives and current students to get details of how to get into veterinary school and life as a vet student.
Preregister at https://www.vet.k-state.edu/asp/rocks/ and follow the Vet Med ROCKS Facebook page for updates.