July 15, 2020
48 Hours of 4-H 2020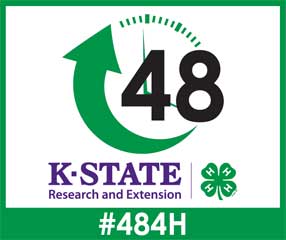 Has your unit considered 48 Hours of 4-H projects yet? We hope every Extension Unit will join us this fall in seeing just how much we can give back to our communities! Invite your friends, clubs, adult volunteers, potential 4-H members and 4-H Alums too!

When: October 10-11, 2020

Who: 4-H Members, 4-H Clubs, Friends, Adult Volunteers, Parents, 4-H Alumni

It's time to make plans for your club to participate. Check out the website for a helpful guide, and soon you will be able to register your projects(s). Be watching for the Facebook Event to win some prizes and get excited about serving our communities. We will also have some 48 Hours of 4-H cups, flashlight pens and other items if you are looking for some things for your local unit.

If you have a big Community Project planned, we have two pop up banners and one hanging banner. We would love to have those used in 3 different locations this year. Contact Beth Hinshaw (bhinshaw@ksu.edu) if you are interested in borrowing one!