May 14, 2021
4-H Publication Updates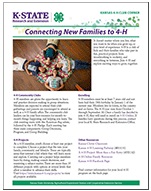 4-H Project Challenge — Communications Challenge: Dynamic Displays. 4H1155. Michelle Beran and Marcia Gier. In this communications project challenge, explore different visual aids and how to make best use of them while building a display.
E2: Entrepreneurship Experience, Lesson 5: Count it Back. 4H1098E. Nancy Daniels et al. Individuals must be able to use responsible purchasing skills as a customer to assist with successful customer service as a business owner/cashier. Includes activities designed to teach students to count back change and practice decision-making skills regarding purchases. Also includes activity resources.
4-H Meeting Wheel Resource. 4H1136S. Spanish. Anne Pitts. This handout, translated into Spanish, is designed to help 4-H leaders and members see how the parts of a meeting work together. Includes information for both in-person and virtual meetings.