May 14, 2021
Planning for Your Summer Enrichment?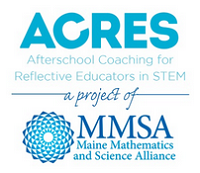 Looking for active learning opportunities and resources that will help you connect with youth this summer? Join ACRES (a nationally acclaimed coaching program for out-of-school educators) for 1-hour virtual workshops where you can:
Gather virtually to share ideas and resources
Learn strategies for facilitating fun summer STEM learning
Get lesson plan ideas to make your programs even better
Have some fun and connect with other educators
Join as many workshops as you'd like! There are free virtual events that will be hands-on and engaging!
Workshops include:
Understand what youth have learned without a test - May 26
Reach all youth through active math learning - May 27
Take math and science outside - May 28
Get everyone excited about STEM and STEAM - June 2
Activate STEM thinking with Purposeful Questions - June 3
Use virtual tools to engage learners at a distance - June 4