May 15, 2019
2019 FCS State Fair Contest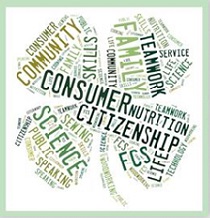 This year the FCS committee has decided that the state fair contest will include three components: 1) judging classes 2)a team challenge and 3) a hands-on puzzle room experience. For 2019, intermediate youth will have classes from five topics and seniors will have six topics. The categories that will be used for both age divisions are bicycles, backpacks, fast food, healthy snacks, and toys. The seniors will also have formal wear rental and purchase as the sixth topic. These categories are chosen from the same list that the Western National Roundup uses for their contest. All local units are encouraged to review the study guide assembled by the Western National Roundup available here: http://www.westernnationalroundup.org/rules/january2019/FCS%20CDM%20Study%20Guides%202018-2020%20(Jan.%202019%20&%20Jan.%202020).pdf
The judging classes will be based on the previously mentioned categories. Examples of judging classes will be posted for local use on the Family and Consumer Science Judging page.
The team challenge is based on the Group Think activity from the Western National Roundup. In this activity, youth work as a team to create a solution to the challenge presented. Here are some YouTube examples from states that are currently using this as part of their contest: https://www.youtube.com/watch?v=D_c23gHcWlM & https://www.youtube.com/watch?v=1Ldvcx_UktY.
There will also be a puzzle room experience which will involve the group working together to solve a series of puzzles.