May 15, 2019
Reporting Camp Numbers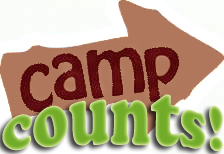 Adding day and overnight camper demographics in 4HOnline is a necessity in order to correctly populate your local ES-237 report. This includes information for both 4-H members and non 4-H youth.
Please see the resource: Tracking & Reporting Campers for step-by-step instructions. This guide is located on the KSRE 4-H Youth Development website, on the Staff Resources page for 4HOnline. Staff will need to login with their eID to view.
Local Extension units have two options to capture camping data, depending on which method is chosen will determine your entry process. Please note, if using Option #1 – you must complete the full process (steps 1-13).
Don't hesitate to contact Terry Roberts at teresaroberts@ksu.edu or call 785-532-5800 if you have any questions.