June 15, 2020
2020 48 Hours of 4-H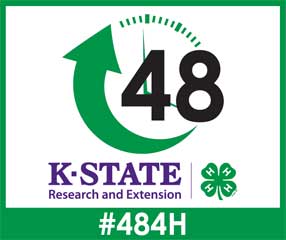 We hope every Extension Unit will join us this fall in seeing just how much we can give back to our communities! The weekend after National 4-H Week, is the perfect opportunity to setup a service project. Invite your friends, clubs, adult volunteers, potential 4-H members and 4-H Alums too!
When: October 10-11, 2020
Who: 4-H Members, 4-H Clubs, Friends, Adult Volunteers, Parents, 4-H Alumni
It's time to make plans for your club to participate. Check out the website for a helpful guide, and to register your projects(s). Be watching for the Facebook Event to win some prizes and get excited about serving our communities.
The link for t-shirt orders will be available in mid August.
If you have a big Community Project planned, we have two pop up banners and one hanging banner. We would love to have those used in 3 different locations this year. Contact Beth Hinshaw (bhinshaw@ksu.edu) if you are interested in borrowing one!