April 13, 2018
True Leaders in Service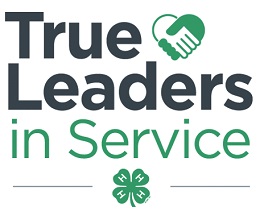 National 4-H is announcing True Leaders in Service, a month-long community service activation. It officially kick-offs the first day of April, and culminates with the National 4-H Day of Service on the last Saturday of April each year. Thousands of 4‐H'ers venture out into their communities throughout the month of April to do what 4‐H'ers do best: lead in service to tackle community challenges and help meet the needs of others. The National 4-H Day of Service can take place in every county across the country. 4-H members, adult volunteers and friends help improve their communities by adopting a service project. These projects can be done as individuals, as an entire county or district 4-H program, or anything in between. No matter the project, this is a day that will make a difference! Click here for all the resources, including a guidebook, logo, social media ideas, volunteer position descriptions, risk management information and more.
Please register at: https://4-h.org/get-involved/true-leaders-in-service/#!event-registration
The goal of True Leaders in Service is to encourage 4-H members in every county to make a big impact on our country. Each 4-H club or program will choose how best to ignite their spirit of service as they offer help in hundreds of ways across the nation throughout the month of April and/or on the National 4-H Day of Service. If April 28 does not work for a project, any project in April can be a part of this effort.