April 13, 2018
Investigate Duplicate Warnings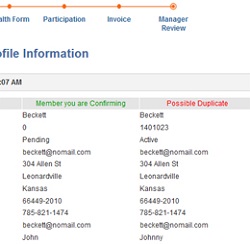 Part of preserving accurate 4-H member enrollment and adult volunteer history is ensuring no duplicate records exist in 4HOnline. A youth should have (1) youth profile and an adult should have (1) adult profile. The system attempts to warn and prevent a user from creating multiple profiles, but ultimately duplication can occur. If a user succeeds in creating multiple profiles or 4HOnline believes a person has more than (1) youth record or more than (1) adult record, the system warns county managers of a "possible duplicate" during the county acceptance process. Managers should investigate all duplicate warnings, determine if they true or false, and proceed accordingly.
If 4HOnline believes a person has multiple records, two columns will exist during Manager Review: one titled "Member you are Confirming," and a second titled "Possible Duplicate." Managers should begin by comparing the information in each column to determine if data in both columns belong to the same person. (Examining names and dates of birth is most helpful). Exiting Manager Review and searching the members' names in the Enrollment tab can also help reveal if a member has multiple records in the county. Note: Occasionally duplicate profiles span across multiple counties. If local Extension staff suspect this is the case, please contact the State 4-H Office for assistance; families and members can be searched statewide and records should be transferred to the appropriate local Extension unit.

If you determine the member has multiple records – do not accept the member's enrollment. During the Manager Review process, select [Delete this member]. Next, contact the family to login to their original 4HOnline account and correctly reenroll the member's original (old) profile. While it would be convenient to "keep" a member's new profile and current enrollment, it's not possible to delete their original record. The member's past club and project enrollment, club officer positions, awards, activities, trainings, volunteer screening dates, etc. are part of the system's historical data and cannot be removed. In order to maintain data integrity, managers must ensure the correct member profile is reenrolled. Please do not allow multiple records and simply "archive" original records.

If you determine the member has one record – accept the member's enrollment. 4HOnline does flag records that may not be actual duplicates. For example, siblings with similar names who share the same date of birth (twins, triplets), or a father and son who share the same name and address (Tom Smith Sr. vs. Tom Smith Jr.).