February 20, 2019
True Leaders in Service and National 4-H Day of Service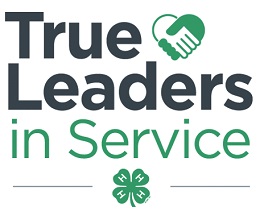 National 4-H is announcing True Leaders in Service, a month-long community service activation. It officially kick-offs the first day of April, and culminates with the National 4-H Day of Service on the last Saturday of April each year. Thousands of 4‐H'ers venture out into their communities throughout the month of April to do what 4‐H'ers do best: lead in service to tackle community challenges and help meet the needs of others. The National 4-H Day of Service can take place in every county across the country. 4-H members, adult volunteers and friends help improve their communities by adopting a service project. These projects can be done as individuals, as an entire county or district 4-H program, or anything in between. No matter the project, this is a day that will make a difference! Click here for toolkit of resources, including a guidebook, logo, social media ideas, volunteer position descriptions, risk management information and more.
Find the link to register projects here.
The goal of True Leaders in Service is to encourage 4-H members in every county to make a big impact on our country. Each 4-H club or program will choose how best to ignite their spirit of service as they offer help in hundreds of ways across the nation throughout the month of April and/or on the National 4-H Day of Service. If April 27 does not work for a project, any project in April can be a part of this effort.
Over the past several years, we've learned a lot about positive youth development (PYD) and the eight critical elements essential to PYD. One of the eight elements is the opportunity to value and practice service to others. This allows young people to develop a sense of pride and ownership in their community. It also allows youth and adults to work together while helping others. Finally, doing community service allows young people to build discipline, foster respect for others, promote civic responsibility, and participate in real world career-related experiences. See this fact sheet on Implementing Effective Community Service Projects.