October 15, 2018
Tractor Supply Paper Clover Campaign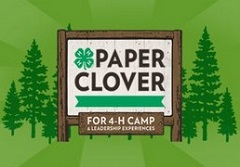 Each spring and fall, Tractor Supply helps raise money for 4 H programs through the sale of Paper Clovers in their stores. In the most recent campaign we raised over $981,000 nationwide. 90% of funds raised go back to state and local 4 H programs to support scholarships for camp and leadership activities.
Dates for the 2018 Campaigns are:
Spring: 4/11/18 – 4/22/18
Fall: 10/3/18 – 10/14/18
Encourage your clubs, county agents and volunteers to participate at their local Tractor Supply Co. store during Paper Clover. Not only will this help donations and improve their relationship with their local store, they will also have the opportunity to enter the Paper Clover Participation Sweepstakes, where 75 clubs will win a $100 TSC gift card. Participation can be anything from setting up a display table and project boards inside the store to having clubs encourage customers to donate.
Learn more about 4 H's partnership with Tractor Supply, including how to win incentives and year-round fundraising opportunities, at www.tractorsupply.com/4-h.
Promotional materials for each campaign can be found at https://4-h.org/professionals/marketing-resources/paper-clover-toolkit/ Please note that materials are not usually available until 6-8 weeks before each campaign. If you have questions please contact Sara Hutches at shutches@4-h.org.