October 15, 2020
Changes and Progress in Kansas 2020-2021 Academic Year Programs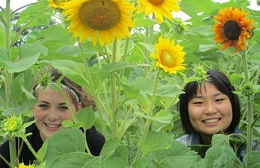 As reported in October, one Academic Year Program (AYP) student, Seorin Ryu, is settling in for the year at Western Plains USD, Ransom, Kansas with the John and Crissie Payne family. She will be a member of 4-H in Ness County. Seorin will be presenting a workshop at Virtual KYLF with Lilly Payne.
After a series of COVID-19 related cancellations, a last-minute request came through from Labo in Japan for a late placement of a student who will be too old next year. Labo requested she come for second semester 2021. The Matt and Stephanie Magill family has agreed to host Ayane Nagakura, who will be arriving just before Christmas to attend Seaman High School in Topeka and joining Shawnee County 4-H.
Maksym Oleksandrovy, Ukraine, is placed under the FLEX with the Paul and Becky Meiwes family in Allen County and attending Iola High School. He will join 4-H in Allen County. We have not yet received details of his arrival in early January.
Families interested in hosting for the 2021-2022 school year may apply now. Student bios should be available beginning around February 1. We anticipate students from 4-H Korea and BFE in South Korea, Labo and LEX in Japan, as well as the U.S. State Department-sponsored FLEX and YES. Contact Mary Kay Munson, Kansas 4-H Exchange Coordinator, at 785-375-3189 or mkm2@ksu.edu.