August 16, 2019
2019 National Youth Science Day Unboxing Event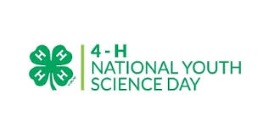 Join us for the 2019 National Youth Science Day (NYSD) Unboxing Event and walk home with a Game Changers kit you can use to bring computer science to your program.
What: NYSD 2019 "Game Changers" kit was developed by Google, 4-H, and West Virginia University Extension Service to teach kids computer science skills through game play, puzzles and animation all centered around topics they care passionately about. It is perfect for first-time and beginner coders ages 8-14 and each kit is designed to accommodate up to 10 youth. You do NOT need any prior experience with computer science or coding to offer this learning opportunity to kids.
Who is invited: Any Agent or volunteer interested in implementing the NYSD kit with a group of at least 10 youth. It is ideal if you have a team of at least 2 volunteers interested in helping to deliver this program.
When: August 28th. The webinar will promptly begin at 6pm, please arrive by 5:45pm. We will provide kits to the first 10 groups to register. We will unbox and model a lesson right out of the box!
Where: Johnson County Extension Office (11811 S. Sunset Dr. Suite 1500 Olathe, KS 66061)
**Pizza will be provided.
**First 10 groups to register will be provided with a "Gamer Changers" kit to take home. If you will be working with another person to deliver the program and they will like to attend the event, please add their name to the comments section at the end.
**Limited to 1 kit per club/school/library/etc.
Seating is limited to 20 participants. Register early! https://forms.gle/MoFYPyTkoMBuHrKM9
If you have any questions about the event, please contact Anissa Jepsen at ajepsen@ksu.edu or Ami Lin at ami.lin@jocogov.org