June 14, 2019
Kansas 4-H Foundation Announces 2019 Innovation Grants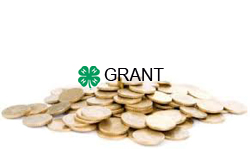 In the inaugural year of the Kansas 4-H Foundation Innovation Grant initiative, the Foundation received 13 proposals which were scored and ranked by a prioritizing committee of 4-H volunteers and professionals.
Of the 13 proposals, 11 requests were approved by the Foundation's Grants and Awards Committee and the Kansas 4-H Foundation Board of Trustees. Eight grants are receiving funding from the existing pool of funds, and the remaining three are designated for potential funding as the Foundation secures additional resources.
"I couldn't be more pleased with the innovative thinking, willingness to experiment and desire to have a high impact on our youth that these proposals represent," said Jake Worcester, Kansas 4-H Foundation President & CEO.
The 11 multi-year proposals represent 13 local units, and include all the stakeholder groups eligible, including three volunteer action teams, local professionals and collaborative efforts among state and local staff, as well as volunteers. The total funding need is $310,165 over five years. To fund all 11 proposals, $125,000 is needed in the 2019-20 4-H year.