June 14, 2019
2019 National Youth Science Day Announced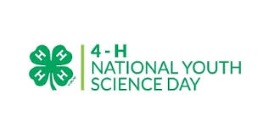 This October, 4‑H will launch the 2019 National Youth Science Day (NYSD) challenge, Game Changers. Designed by Google and West Virginia Extension service, Game Changers teaches kids ages 8-14 how to use computer science (CS) to create games, solve problems and engage with topics they're passionate about.
Game Changers uses physical activity and puzzles to teach kids important CS concepts and problem-solving skills, creating real-world connections between computer science and civic engagement, healthy living and agriculture. Although the challenge includes one computer-based and two unplugged activities to help kids learn CS, all can be completed without internet access.
New to NYSD? Game Changers is easier than ever to facilitate and teachers and facilitators don't need any prior experience with computer science or coding to bring the activity to their students.
NYSD kits will go on sale in July - watch for emails from National 4-H and Kansas 4-H regarding sale of kits, as well as events in NYSD events during the month of October.
https://4-h.org/parents/national-youth-science-day/