June 14, 2019
Deryl E. Waldren Retiring as Northwest 4-H Youth Specialist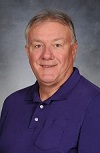 Deryl Waldren is retiring after nearly 38-years of Extension/4-H work in Kansas, Colorado and California. Deryl will retire on June 29, 2019. He plans to remain in Colby as he begins a new journey that will involve travel, genealogy, gardening, cooking, volunteer work, plus much more. His contact information will remain the same: dwaldren@ksu.edu, and his phone will remain 303-349-7403. Deryl treasures his varied and exciting Extension experiences through the decades and appreciates the Extension family that exists in Kansas and across the USA. He extends an invitation to stop by when you pass through Colby, KS.
He began his Extension career as the KSU Extension Agricultural Agent and Director in Logan County in Oakley in 1981. In 1984, he moved to Butte County, California, as the University of California Cooperative Extension 4-H Agent in Oroville. In 1993, Deryl moved to Colorado in Boulder County as the CSU Extension 4-H and Natural Resources Agent in Longmont.
From 1997-99 he worked on the USDA/Army Youth Development Project living in Heidelberg, Germany, and working at 42 US Army installations in Germany, Italy, Belgium and the Netherlands. This was the major highlight of his career in Extension.
Deryl returned to Boulder County in 2000 until 2006, when he returned to Kansas as the Northwest Area 4-H Specialist located in Colby.