June 14, 2019
Register for Vet Med ROCKS Summer Camp!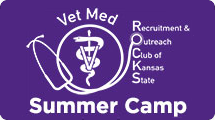 Vet Med ROCKS Summer Camp, set for Aug. 2-6, is a series of day camps providing youth, ages fourth grade to pre-vet students, a hands-on and behind the scenes look at the K-State College of Veterinary Medicine.
Vet Med ROCKS camp will consist of a full day of activities at Kansas State University College of Veterinary Medicine! Specialized activities in Zoo Animal, Lab Animal, Small Animal, Equine and Large Animal are planned! Interact with faculty in their areas of expertise for a focused day of education!
Activities to choose from:
Inside look at the work of veterinarians at the Sunset Zoo.
In depth study of an equine patient: What causes colic? Can you identify lameness in a horse and find the cause? Understand the unique anatomy of our equine patients.
What does a Lab Animal Veterinarian do every day? Get a specialist's perspective at this unique field of study and practice in veterinary medicine.
Encounter a patient who needs your help during your visit to the Small Animal Hospital at the Veterinary Health Center.
Help "Bessy" deliver a calf and visit our campus farms!

(Register by July 12, 2019 to be guaranteed a T-shirt)
August 2-4, 2019 High school and College Camp (entering 9th -12th and students currently enrolled in undergraduate studies)
August 5, 2019 Grade School Camp (entering 4th-6th)
August 6, 2019 Middle School Camp (entering 7th-8th)
For more information and to register online: https://www.vet.k-state.edu/asp/rocks/